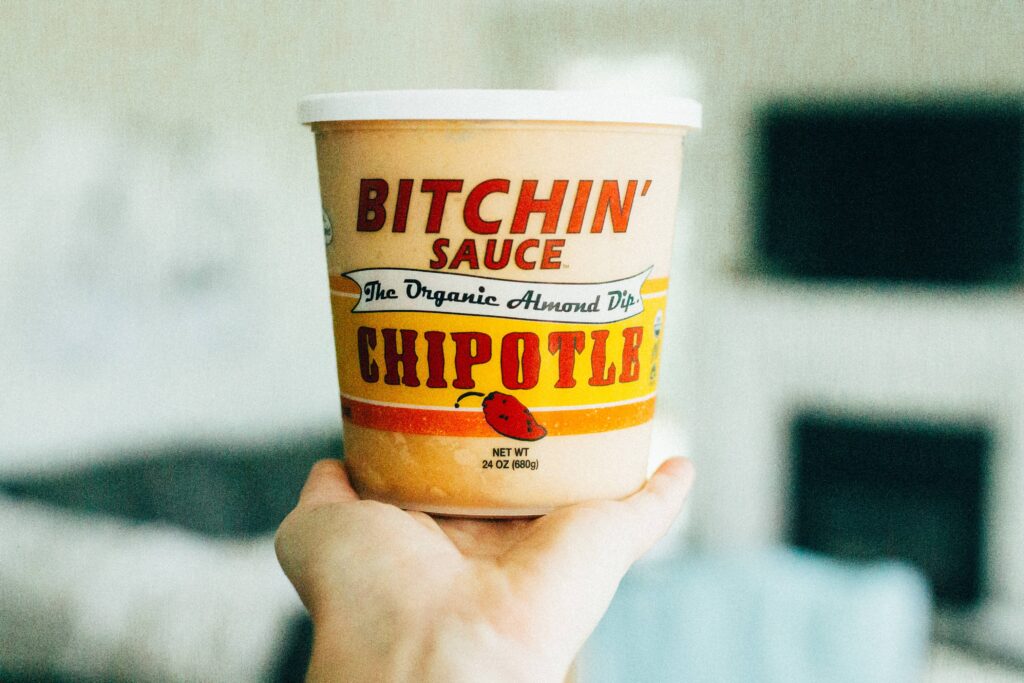 I first met Bitchin' Sauce when my sister-in-law brought it over to Jeff's parents when they were in town. They said we "had to try it". And they were most definitely right. (insert drool here).
What is Bitchin' Sauce?
Are you a condiment person? I feel like you either like ketchup, ranch, and hot sauce or you eat dry sandwiches. I'm a condiment person. And I consider this sauce my new favorite. How I eat it kind of reminds me of hummus. But consistency-wise it's thinner than hummus, kind of the consistency of a creamy caesar dressing. And what is Bitchin' Sauce exactly? Almond dip!
When I first read the side of the container and learned that Bitchin' Sauce is almond dip, I was confused because when I read "almond dip" my brain went right to almond nut butter. Definitely not what we are dealing with here, much different ingredients.
Bitchin' Sauce ingredients
All sauce varieties (there are quite a few) are vegan. I've been most into the Chipotle Bitchin' Sauce and it's ingredients are: water, grapeseed oil, almonds, lemon juice, soy sauce, nutritional yeast, garlic, chipotles, vinegar, tomato, smoked paprika (and other spices, aka signature super duper secret blend), sea salt, and onion powder.
What to eat with Bitchin' Sauce
Now for the most important part. What is it best with? On? Etc. Aka, how do I eat this stuff? There are so many options, let me give you a tour of my favorites, per usual, they are all easy combinations and recipes.
Bitchin' dip
I use it as a dip often. My favorite dippers are: carrots, mini cucumbers, tortilla chips, pretzel rods, grilled zucchini, and chicken tenders.
Bitchin' topper
Like I said, I'm a condiment person. Here are some of the things I have put the chipotle sauce on top of: burger, tacos, sandwich, hot dog, and a brat. It's fantastic on all of them!
Bitchin' egg salad
Jeff and I hard boil a dozen eggs each week (for 3 min our Instant Pot, so easy) for a grab and go breakfast option or a quick protein snack. But this past weekend, I made an egg salad sandwich with Bitchin' Sauce and it has quickly become my go to.
In a bowl mix 3 hard boiled eggs, 1/2 handful chopped fresh spinach, Bitchin' Sauce, to taste (I think I added about 1/3 cup because I'm obsessed), and a dash of sea salt. Eat as an open-faced or full sandwich on toasted bread. (p.s. I took a picture of this one for you guys. Not sure if it was the light or the subject, but it didn't look anything near as good as it tasted so I decided to spare you.)
Bitchin' Board
Whether you're entertaining or you want a unique dinner/snack experience for your family, making a Bitchin' Board (Bitchin' Sauce version of a charcuterie board) is a crowd pleaser!
Bitchin' bowl
We like to made "Buddah bowls" which is basically a combination of random condiments, vegetables, a grain (like rice or farro), greens, and a protein (grilled chicken, garbanzo beans, egg?) all in a bowl. I often put Sabra hummus and/or Healthy Choice Greener Goddess dressing (found at Walmart) in my bowl, but Bitchin' Sauce has quickly become my go-to.
Bitchin' chopped salad
Because the texture is like a thick dressing. it's pretty easy to use it as a dressing. Chop up romaine and mixed greens, lunch meat (I love black pepper turkey), cold raw veggies (tomato and cucumber are my favorite for this), and a hard boiled egg. Top with Chipotle Bitchin' Sauce. Shake it all up. Enjoy!
Bitchin' Green Pasta Salad
One day I just decided to throw in with some Banza pasta and chopped greens. I gave it all a good toss and yum. Definitely something I have repeated a few times since.
Where to buy Bitchin' Sauce
Ok, now that your mouth is watering. There are a few options for where you can can this fantastic product.
Online: Their online shop has all of the varieties in 8 ounce containers ($5 each)
Costco: The chipotle variety is stocked here, which is my favorite. In my opinion, Costco is the place to buy the dang good sauce because it comes in a 24 ounce container and is $8.99 (less than double the price for 3x the product).
Target: Apparently Target sells it now, although I haven't seen it at our location yet.
Many health food stores stock it (like The Natural Health Center, People's Food Co-Op, and Sawall's, if you're in Kalamazoo)
If you give Bitchin' Sauce a try, let me know!! I'd love to hear how you like it.